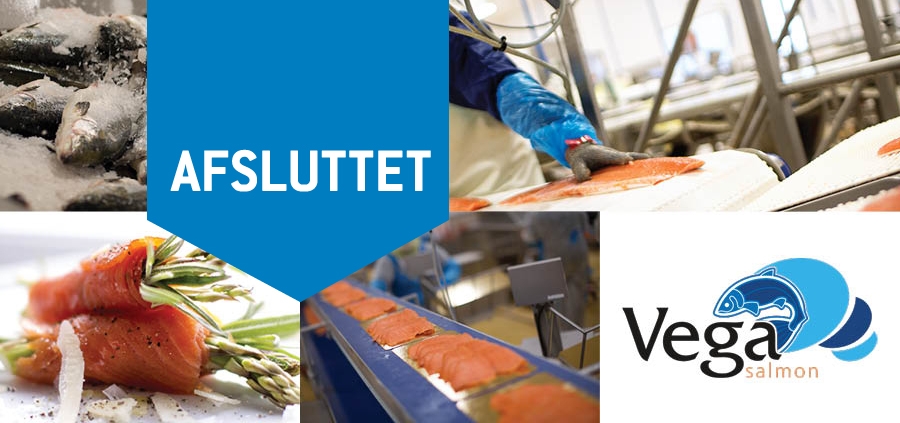 The Position:
Key Account Manager – Retail EU
New Business Development – Partnerships – Segment Growth
Do you have solid fmcg/food retail business acumen?
Would you like to work with one of the most renowned suppliers within the high profiled and trendy salmon category? – If yes, you are the one we are looking for!
Vega Salmon is in the market for a skilled Key Account Manager to further develop the retail EU client portfolio. You will take full responsibility for key account client development and sales on the relevant markets in the region. Through the right approach you will acquire the targeted retail clients in the segment and develop the retail client portfolio.
The company
Vega Salmon is one of the largest fish processers in Europe and with more than 400 employees the company is always growing. Vega Salmon continuously work with their suppliers and customers to secure a strong partnership and to reduce the environmental impact.
Vega Salmon was established in 2004. Back then, the fish processing industry was mostly competing on price, and cost cutting was the name of the game. Quality, food safety and sustainability were buzzwords, which seldom made it to the cooling disks, as price concerns dominated.
Vega Salmon quickly realized that the game needed to change. Consumers were becoming more demanding about quality and food safety, and the world needed a more gentle way to produce food. Vega Salmon set out to find a way to deliver better quality in a sustainable way while maintaining competitive cost levels.
The answer was to combine the latest technology with lean production principles. Vega Salmon designed a unique, new processing facility in Handewitt, Germany, which was to become one of the most advanced fish processing factories in the world. In 2012 the new factory was ready, and Vega Salmon could move to the next level.
Values
• High Quality
• Sustainability
• Flexibility
Ownership
Vega Salmon is owned by Maj Invest Equity, a major Danish private equity fund.
Read more about Vega Salmon: www.vega-salmon.dk
The role
You will report to the Regional Manager and become part of the dedicated and dynamic sales team. In strong cross functional collaboration and together with the retail customers you will make the future journey and growth of Vega Salmon possible.
You will be responsible for the strategic vision and outlining the ambitions to improve sales, profit and brand image in the segment, and the initiatives needed to achieve those ambitions. A significant part of the job is to continuously have up to date market intel in order to build and further strengthen the Vega Salmon brand within the retail segment.
You will co-develop and execute on your key account concept, including full sales responsibility for your key account retail customers in the region.
Main responsibilities are:
• Develop segment sales concept and strategy – in line with overall strategy of VEGA Salmon
• Increase Vega Salmon's turnover and segment growth according to budget
• Prepare sales forecasts (monthly/quarterly)
• Reporting of overall KPI achievements and gaps
• Development of a fact orientated sales reporting approach
• Be a part of the market intelligence database and communicate market surveillance
• Management of Vega Salmon's internal and external marketing resources
• Create visibility for him-/herself and function
• Operational sales execution – "hunter" profile
• Continuously contribute to further development of the overall sales team through knowledge sharing, quality assurance and process improvement
The candidate
The ideal candidate possesses a thorough knowledge of the dynamics of the seafood and salmon business as well as the retail segment in the EU region. If not, you have an in-depth understanding of the retail segment in the EU region but from working with other food categories than salmon.
Your workstyle is structured, methodical and persistent. You are well prepared in all phases of the workflow and follow up on agreements in all phases of the sales process and most importantly – you act proactively. You could be working out of your home-office so you are able to work independently and professionally but know that you cannot succeed without being an integrated part of the team.
You are outgoing and create strong and lasting professional relationships with customers, and you already have an extensive network within the retail sector in the EU region. You are known as a reliable and trustworthy partner, which helps you to constantly increase your customer portfolio.
You possess good cooperation skills across the organization, and you are an experienced networker, and know your relevant stakeholders.
You are inspiring with a positive attitude and a desire to succeed both personally and as part of a team. Therefore, you generously share your extensive knowledge and experience in order for every team member to succeed, and for Vega Salmon to grow as a company.
Candidate essentials
• Solid proven track record from similar commercial position within fmcg/food – not necessarily from the salmon category
• Well established retailer network in the EU region
• Methodical, structured and data driven. Skilled at working with forecasts, customer plans and with good financial understanding
• Self-starter and "can-do" attitude
• Goal driven
• Knows how to create win-win solutions – and profit
• Good business acumen (Salesman ship)
Workplace
Vega Salmon is a multi-cultural international organization representing many different nationalities Ideally your workplace will be Vega Salmon's production site in Handewitt Germany or the headquarter in Kolding, Denmark. You could also be home-based and expected to travel to Vega Salmon's sites on frequent basis.
Language
Full proficiency in German and English, both written and spoken.
Education
Educationally you hold a commercial or academic degree. You could be a Market Economist, Master, MSc Economics and Business adm./ cand.merc. or similar. However, your specific educational background is not of primary importance – your experience from a similar role is.
Preferably, you have a minimum of 3-6 years of commercial hands-on sales experience within fmcg/food categories and focusing on the retail/ wholesaler segments in the EU region. Maybe you work as Key Account Manager, Senior Account Manager, Sales Manager or Trader today and is looking for new exciting challenges.
IT
You are confident working with Microsoft Office and Excel.
Contact
If you have any questions regarding the position, please feel free to contact Business Partner Allan Rønsholt on mobile +45 22 79 80 98 or email: ronsholt@alrconsulting.dk
All inquiries are treated with full confidentiality.
Is this the right position for you?
Please do not hesitate and send your CV to the above email marked "KAM – Retail EU".
The process concludes, when the right candidate has been found.
https://www.alrconsulting.dk/wp-content/uploads/2020/03/ALR_VegaSalmon_900x450_afs.jpg
425
900
Jurgen
https://www.alrconsulting.dk/wp-content/uploads/2019/09/alr_logo-320x147.png
Jurgen
2020-05-14 09:36:49
2021-03-19 16:11:39
Key Account Manager - Retail EU