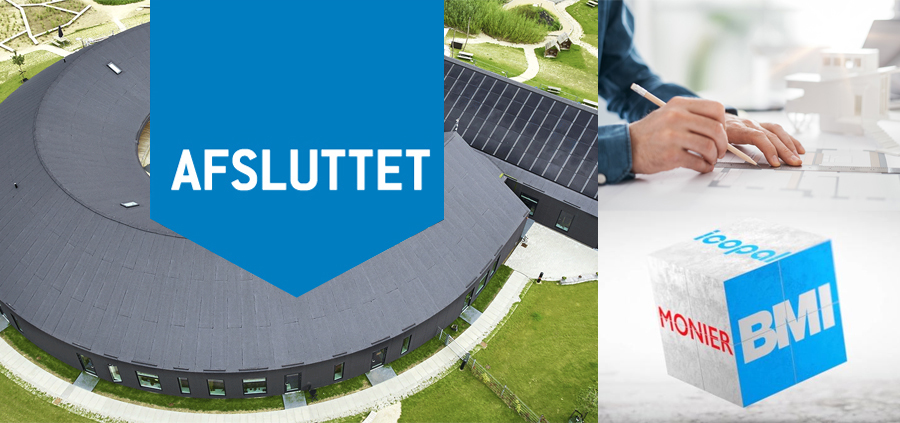 About the group
BMI Group is the leader in roofing and waterproofing solutions for pitched and flat roofing systems throughout Europe, and has a significant presence in Asia and South Africa. It is part of Standard Industries, a global, diversified holding company with interest in building materials, aggregates, and related investment businesses in public equities and real estate. BMI Group is headquartered in London with further offices in Herlev (Denmark) and Oberursel (Germany) and employs around 11,000 people in over 40 countries worldwide.
In pitched roof segment the company offers a comprehensive range of concrete and clay tiles and complementary roofing components designed to cover various functional aspects of roof construction.
In flat roof part of the business the offer extends to a broad range of solutions for the flat roofing and waterproofing industries including bitumen membranes, synthetic membranes, liquid products, skylights, smoke ventilation, thermal insulation and installation services.
The position as Quality Manager Nordics (DK,S,N,FIN)
This is a career developing position aimed at taking you and our current quality management set-up in the Nordic region to the next level. In this role you will be reporting to the Group Quality Director and work closely together with a number of local functional reports, (Plant Quality Managers) at our 6 production sites in the region, as well as cross-border peers and managers, in order to support the overall BMI Group Quality Initiative. You will have full professional responsibility overall for all, quality related matters, in your region.You can be based at our site in Ikast but since the sites are spread in the region there is flexability on this. Due to travelling, a close connection to a central danish airport is ideal.
BMI Group is a key international player within the areas of roofing and waterproofing solutions, supplying the international building and construction industry with a wide range of quality products made from bitumen, clay and concrete. In the role as Quality Manager Nordics you can play an important part in the development process over the coming years and use your quality management skills and leadership experience to assess the current set-up and schedule a development plan to take quality management to the next level in the region and at group level. Some of the many tasks and responsibilities will be to ensure coherence between the BMI group's overall vision and the daily efforts in the areas of quality. As well as participate in the implementation of our new ERP system 2One (is in progress). Plan, execute and follow-up on group audits, secure QM structure and processes in production work-flows and claims management etc. Align compliance, support and guidance related to quality management tasks in the group and several other challenging assignments.
A vital part of the role is also the ongoing secure QM as a part of the everyday agenda at each site in the region and maintain focus on the advantages it brings to the business.
Outputs & Accountabilities
Develops, implements and controls a quality assurance (QA) system (BMI Group standard & EN ISO 9001 (if applicable)) for the country to ensure the conformity of the products to BMI Group standards and internal/external quality standards in the country
Owns central quality-related documents (QM-database in local language)
Assesses and inspects the performance of locally produced BMI products on a regular basis, especially:
Rates the product performance / Initial type testing / Validation
Supports factory production control: Training, quality plans, testing instructions, testing equipment, documentation, data-analysis (SPC), quality related IT systems
Has the authority to stop production in case of non-conformities
Owns the BMI complaint report in the country
Analyses the BMI complaint report and identifies improvement potential for production and the Management
Drives the process of continuous quality improvement in area of responsibility
Defines, maintains and improves technical and process standards within the production (e.g. on basis of weak point analysis)
Is owner of the BMI validation process/guarantee approval process in the country (new/modified products/processes)
Coaches functional reports (Plant Quality Managers)
Sets annual quality targets in the plants and monitors the implementation
Reports the quality level to the Management (local, functional, regional)
Translates product requirements (defined by product Management) into quality-related documents for production.
Owns central IT quality tools (e.g. SAP-QM)
Supports production in case of quality problems
Consults customer service center in complaint handling: technical analysis of complaints
Motivates and coaches the employees in Quality Management topics (e.g. application of quality techniques and methods)
Organises external and performs internal quality audits
Performs competition benchmarks
Is contact person to national and international key suppliers on quality matters
Sets the standards for quality assurance agreements with suppliers in co-operation with the procurement department
Rates external suppliers according to quality requirements
Supports the legal department in cases of insurance matters (product failures)
Performs risk assessments in case of serial product damages for the country
Candidate skills, qualifications and attributes required
Ideally you hold a Master degree in chemistry or engineering, or comparable technical education/experience.
Furthermore, you have a proven track record of minimum 5-10 years in a similar challenging people manager position, within quality management, from a large international player, ideally within the building and construction industry.
You have knowledge of QM-methods ( e.g. Total Quality Management) QMS and ISO Standards etc. and you are skilled in working with LEAN and Six Sigman in an international and technical production environment.
Ability to take leadership, strategic and innovative thinking
Analytic thinking and ability to organise and structure
Ability to adapt new methods and instruments
Good inter personal skills
Good and clear communicator: able to convince at all levels
Ability to work under high pressure
Ability to deal with conflicts in a constructive manner
IT and language
Skilled IT and Microsoft Office tools knowledge.
Fluent in Danish and English, written and verbal.
Other
Work Place: Can be Ikast Denmark
Travel: Approx. 30-45 days per year
Starting time: Q1 2022
– the recruitment process ends when the right candidate is found
Contact person
Allan Rønsholt
Business Partner ALR Consulting
ronsholt@alrconsulting.dk
+45 2279809
https://www.alrconsulting.dk/wp-content/uploads/2021/12/ALR_BM_mang_top_900x450_afs.jpg
423
900
Jurgen
https://www.alrconsulting.dk/wp-content/uploads/2019/09/alr_logo-320x147.png
Jurgen
2021-12-01 09:11:19
2022-02-27 20:27:32
Quality Manager Nordics BMI Group