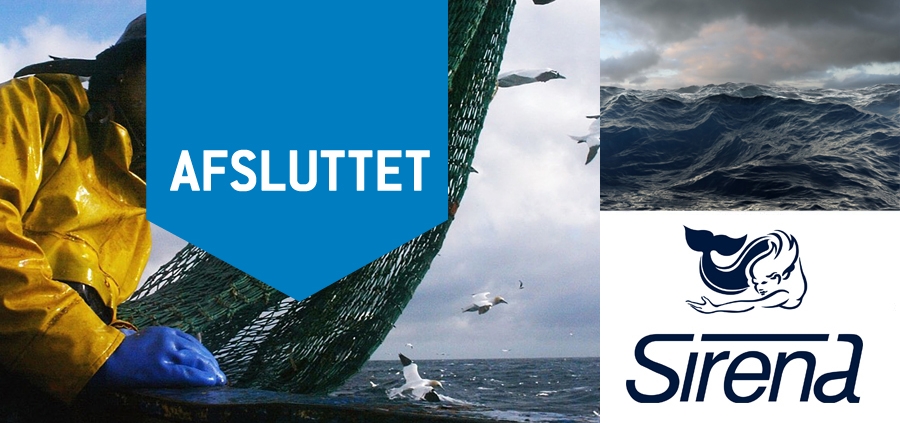 International seafood B2B experience – Commercial development – Trading
Responsible for growing existing business and gaining profitable new business with targeted accounts. The position is responsible for market penetration with existing product portfolio as well as launching new seafood concepts in a way that supports the facility and growth initiatives in efforts to meet annual budget commitments.
About the company
The Sirena Group specialises in the global sales and marketing of North Atlantic frozen-at-sea products. We take pride in the strength of our relationships, having cultivated some of the longest-standing strategic partnerships – and friendships – with frozen-at-sea fishing vessels and processing plants all over the North Atlantic. We've done this by taking a straightforward, long-term approach to all of our activities and relationships. Our partners are some of the biggest players in the industry, and it's no secret why: our long-haul commitment and seafood trading expertise.
Do you have solid B2B frozen and/or fresh seafood business acumen?
Preferably within the white fish category.
Can you plan and execute on a 6–24-month commercial strategy with an interesting product portfolio within seafood?
Aimed at retailers, wholesalers, supermarkets and foodservice/ HoReCa segments
Sirena Group is expanding the commercial organization by offering this challenging position, based in Aalborg, to the right candidate with a solid track record from a similar position in the seafood industry combined with the right skill/- and mind-set to strengthen our team.
Following your onboarding process and in close cooperation with the CEO and your fellow Sales Managers you will take full responsibility for developing your commercial go-to-market strategy, defining your primary key account long-term and spot market clients, and executing on your activities in order to reach your individual and division targets. You will be part of a dedicated team of seafood experts located in Nærum and Aalborg as well as part of a global organization representing the Sirena brand and products to key players in the market.
Gathering of market intel and knowledge sharing with colleagues in strong cross functional collaboration will secure your results and participation in making the future journey and growth of Sirena Group possible.
Main responsibilities:
Develop segment/market sales strategy/ go-to-market – in line with overall strategy of Sirena Group
Work cross organizational to ensure correct and adequate supply into relevant markets across a range of great products in our portfolio
Increase Sirena Group turnover and segment growth according to budget
Prepare sales forecasts (monthly/quarterly)
Reporting of overall KPI achievements and gaps
Work with international teams on supply issues, logistics and product coverage
Fact orientated sales approach
Be a part of the market intelligence database and communicate market surveillance
Operational sales execution – "hunter/ can-do" profile
The candidate
The ideal candidate is self-driven and a creator of opportunities with a thorough knowledge of the dynamics of the international seafood industry, frozen and fresh, as well as good exposure to network of purchasers with key players in the segments.
Your personality, skill set and drive in combination with the experience, brand and products of Sirena Group will produce the results you need to reach the expected targets. Your workstyle is structured, methodical and persistent. You are well prepared in all phases of the workflow and follow up on agreements in all phases of the sales process and most importantly – you act proactively.
You create and maintain strong and lasting professional relationships with key clients, and ideally you already have an extensive network in the industry. You are known as a reliable and trustworthy partner, which helps you to constantly increase your customer portfolio.
You have a positive attitude and a desire to succeed both personally and as part of a team. Therefore, you generously share your extensive knowledge and experience in order for every team member to succeed, and for Sirena Group to grow as a company.
Candidate Essentials:
Solid proven track record from similar international commercial position within the frozen and/or fresh seafood industry – ideally white fish
Well established network
Structured and fact-based approach. Skilled at working with forecasts, customer plans and with good financial understanding
Business acumen – execution and goal driven (Salesman ship)
Knows how to create win-win solutions – partnerships and profit
Self-starter and "can-do" attitude
Workplace
Based on the office in Aalborg with strong links to HQ in Nærum and group offices around the world. The ideal candidate is based in the northern part of Jutland, Denmark
Language
Full proficiency in English, both written and spoken. Ideally additional languages such as Spanish, French, Russian, Chinese etc.
Education
Your educational background is not of primary importance here – your experience from a similar role is.
You could hold a commercial or academic degree. You could be a Market Economist, Master, MSc Economics and Business adm./ cand. merc. or similar.
Preferably, you have a minimum of 2-4 years of commercial hands-on sales experience within the white fish, crab, shrimp, lobster categories and see yourself ready to take on this rare opportunity to play at vital part in Sirenas organization.
Maybe you work as a Key Account Manager, Area Sales Manager, Sales Manager or Trader in the seafood industry today and you are now ready for this exciting challenge.
IT
You are confident working with Microsoft Office and Excel.
Travel
+50-60 days world-wide
Contact
If you have any questions regarding the position, please feel free to contact Business Partner
Allan Rønsholt
Cell +45 22 79 80 98
ronsholt@alrconsulting.dk
All inquiries are treated with full confidentiality.
Is this the right position for you? 
Please do not hesitate sending your CV via this link
"Sales Manager – Sirena Group"
The process concludes when the right candidate is found.
https://www.alrconsulting.dk/wp-content/uploads/2021/04/ALR_Sirena_mermaid_top_900x450_afs.jpg
425
900
Jurgen
https://www.alrconsulting.dk/wp-content/uploads/2019/09/alr_logo-320x147.png
Jurgen
2022-12-03 11:24:36
2023-09-07 14:39:54
Sales Manager with solid seafood trading track-record